Wag'n Tails Start-Up Mobile Customer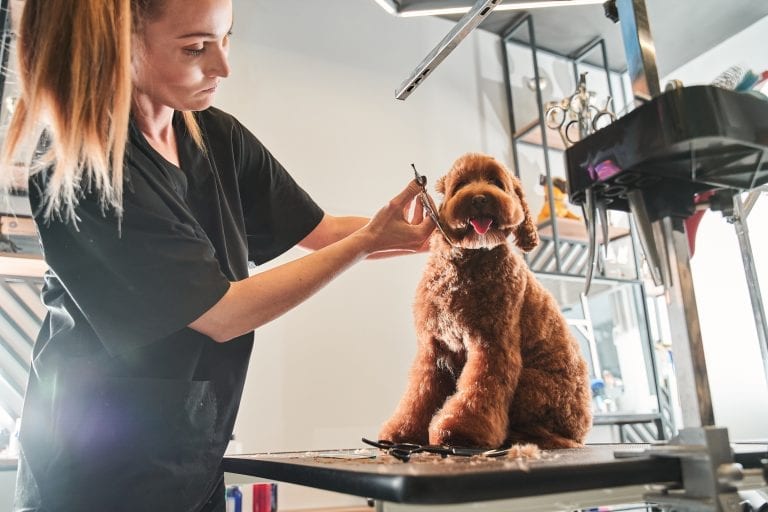 This case study presents the life-changing decision and journey of a pet groomer that transitioned from a career as a groomer in an independent brick-and-mortar pet grooming salon to a manager at a big-box corporate salon to launching her own mobile pet grooming business in 2009. Alice is currently working in her third Wag'n Tails pet grooming vehicle, a Dyna Groom model. She trades in her Wag'n Tails vans every few years to take advantage of the significant tax incentives.
Alice has been a pet groomer for over 18 years. She was drawn to the pet grooming industry because of her love for dogs and cats, having trained her own dogs to compete in agility events.
Employment at both the independent and big-box corporate salon left very little time for her husband and children. She had no control over her schedule and was forced to miss important activities like her children's school plays, birthday parties, anniversary dinners with her husband, and other important life events. Alice felt like she was missing out on the day-to-day activities that many other parents take for granted. She was discouraged and seriously contemplating quitting the profession that she loved for a mundane job that would allow her to spend more quality time with family.
One afternoon when she was heading over to the salon for a late shift, she saw a makeshift pet grooming van. She called the phone number on the side of the van and was able to arrange a time for the owner to show her what turned out to be a home-built grooming van. Alice's conversation with the mobile groomer made her very enthusiastic about the growing demand for mobile pet grooming services. Alice and her husband, however, had never been very handy around the house or mechanically-inclined, so she made some calls and researched the mobile pet grooming vehicles online. That's when she learned about Wag'n Tails Mobile Conversions.
Alice and her husband were very impressed with the positive, encouraging, professional, and easy-going approach that Wag'n Tails took with them. The sales team was consultative and really showed that they cared about Alice's past experience and vision for her future as both a pet care professional and a wife and mother. Wag'n Tails laid out all the options in a straightforward way and then let Alice and her husband decide when they were ready. Alice never felt rushed and was comfortable throughout the purchase process, even during the financing part. She appreciated the relationships that Wag'n Tails had fostered with different lenders, which made the underwriting and approval process easy, streamlined, and fast. In almost record time and just one day after submitting her credit application, she was approved for a pet grooming vehicle loan.
Alice's biggest worry early on before making her final decision to become an entrepreneur was whether or not she could make it on her own. She had confidence in her skills and felt knowledgeable enough as a pet groomer but running her own business would be a new challenge, and it scared her a little. It didn't take long for her to feel at ease though. Wag'n Tails provided her with a free Mobile Pet Grooming Business Success Guide and the promise that its customer support team would always be there to help and ensure her success. Wag'n Tails provided Alice with useful tips and best practices for routing and scheduling, social media and marketing, mobile services pricing, pet grooming vehicle maintenance, and even the smallest details like handling phone calls with prospective clients. Her business took off right from the start! There was even more demand than she had initially thought.
Twelve years into her mobile pet grooming career, Alice still appreciates the flexible work schedule that mobile grooming provides. The ability to spend more time with family and friends, the reduced physical wear and tear on her body (grooming only five dogs per day four days per week compared to many more in a salon), and the fact that Alice is earning a lot more money (approximately $14,000 per month) than she did at the independent and big-box salons are just a few of the reasons why Alice would recommend mobile pet grooming to any groomer out there. Another real benefit for Alice is the type of clients that she attracts to her mobile grooming business. Because mobile services are more convenient for pet parents and healthier for pets, Alice is able to charge premium prices and attract better clients. Alice's clients treat her like a member of the family and really value the one-on-one attention that she gives to their pets. Alice said, "It's low or no stress for the client, the pet, and even the groomer too!"
Alice is always telling groomers that she meets about the whole new world mobile pet grooming has opened for her. She said, "It has been a dream come true."