The Benefits of Referrals Between Mobile Pet Groomers and Veterinarians
Uncategorized
|
4 min read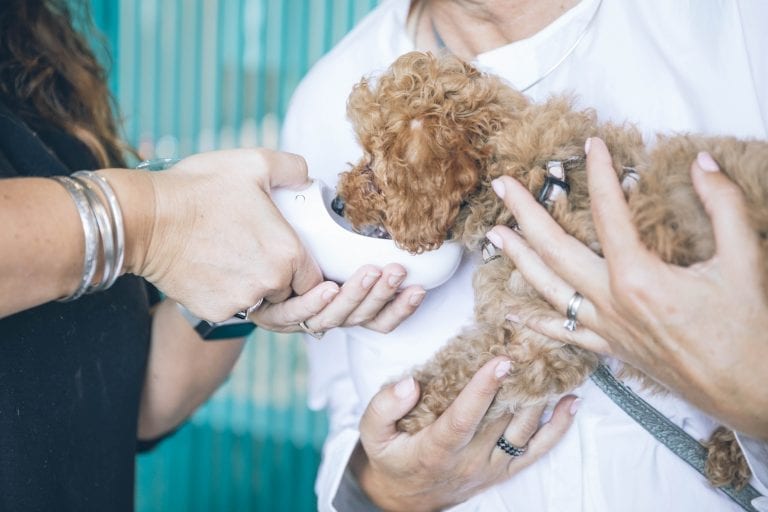 In the eyes of our four-legged companions, pet groomers and veterinarians are more than just service providers—they're heroes. And when heroes team up, they're even stronger. 
That's one reason why more mobile groomers and veterinarians are choosing to work together and support each other through client referrals. 
If you're a mobile groomer looking to attract new customers or a vet who wants to go above and beyond for your patients, keep reading. This guide will break down how referrals can increase your clientele, profits, and overall business success. 
The Benefits of Veterinarian
Ruff-errals
for Mobile Groomers
When it comes to how to become a pet groomer starting a mobile grooming business, one of the keys to success is establishing a strong client base. 
If you own a brick-and-mortar salon and are offering mobile services as a way to expand your business, you're at an advantage. You already have clientele who rely on you for your quality service. But if you're new to the world of mobile pet grooming, you'll have to build your clientele from scratch. 
Fortunately, mobile groomers have an influential resource at their disposal—local veterinarians. 
Like you, veterinarians make a living out of helping animals. They care about the health and well-being of their four-legged patients. With your mobile grooming services, you can offer their clients an additional form of preventative healthcare. For this reason, many local vets are willing to refer well-trained groomers to their patients, offering a complete care package. 
Plus, with the advantage of mobility, you're not limited to only working with the vets in your immediate area. By exploring other neighborhoods and communities, you can capitalize on the growing demand for mobile groomers to increase your clientele. 
What about partnering with local pet stores or doggy daycare centers? 
Although working with these types of businesses can be beneficial in reaching your target audience, their referrals may not carry the same weight as a referral from a veterinarian.  
Pet owners trust their vets. After all, they're qualified medical professionals. By teaming up with local vets and receiving their stamp of approval, you can easily attract new customers and build a devoted client base. 
How Veterinarians Can Benefit from Mobile Groomers
On the other paw, if you're a veterinarian, partnering with mobile groomers for client referrals can benefit your practice in a number of ways. 
Chew on this: Mobile groomers see their clients more frequently than vets do. Typically, a dog will be groomed once a month, while cats are usually groomed once every four to six weeks. Because groomers are trained to recognize the signs and symptoms of various skin conditions, they may be the first to notice a pet's health issue. 
In this case, the mobile groomer can alert the client, express the importance of immediate medical attention, and refer them to your practice for treatment.
Similar to a vet referral, advice from mobile pet groomers carry weight. In fact, mobile groomers often develop stronger relationships with their clients than salon groomers or veterinarians due to their recurring at-home visits. 
Plus, when patients are referred to your practice by a mobile groomer, you know they're keeping up with important preventative grooming measures. That makes your job that much easier! 
Consider partnering with a mobile groomer and hosting a special promotional event for your practice where pets can be pampered with on-site grooming. When customers see how much you care about the well-being of their furry friends, they'll feel confident about choosing your practice for all of their pet's healthcare needs. 
Building the Dream Team
By working together, mobile pet groomers and veterinarians can increase their clientele and profits. But for a truly successful partnership, you have to find the Turner to your Hooch, the Perdy to your Pongo, the Lady to your Tramp—essentially, you have to find your perfect match. 
If you're a mobile groomer:
Visit veterinary practices in person

Get to know the practice's staff

Discuss business goals and ideas for promotional events

Make sure vets are accredited by the American Animal Hospital Association
If you're a veterinarian:
Tour mobile grooming facilities to ensure they're safe and well-equipped

Sit in on a grooming session to see how the groomer interacts with their clients

Read customer reviews online to get a better idea of the groomer's level of service

Do your research on the mobile dog grooming prices and grooming services that groomer is offering
Partnering to Provide Optimal Pet Care 
By referring a trusted provider, you guarantee your canine clients receive the most comprehensive, quality care possible. And when it comes to our beloved pets, that's the measure of a true hero. 
If you're considering leasing a mobile grooming vehicle and wondering how to start a mobile pet grooming business, there's no better partner than Wag'n Tails. As a leader in the mobile pet grooming space, Wag'n Tails offers the best breed of vehicles, boasting innovative designs and state-of-the-art equipment. 
Plus, their flexible financing options take the stress out of starting your own mobile grooming business. That way, you can focus on what matters most—serving and protecting our precious pups. 
Sources: 
Groomer to Groomer. Can Groomers Team Up with Veterinary Clinics and Win? https://www.groomertogroomer.com/can-groomers-team-up-with-veterinary-clinics-and-win/ 
American Kennel Club. Why It's Worth Having Your Dog Groomed Professionally. https://www.akc.org/expert-advice/health/why-its-worth-having-your-dog-groomed-professionally/
Groomer to Groomer. How Often Does a Cat Need to Be Groomed? https://www.groomertogroomer.com/how-often-does-a-cat-need-to-be-groomed/