How To Become A Pet Groomer
Uncategorized
|
5 min read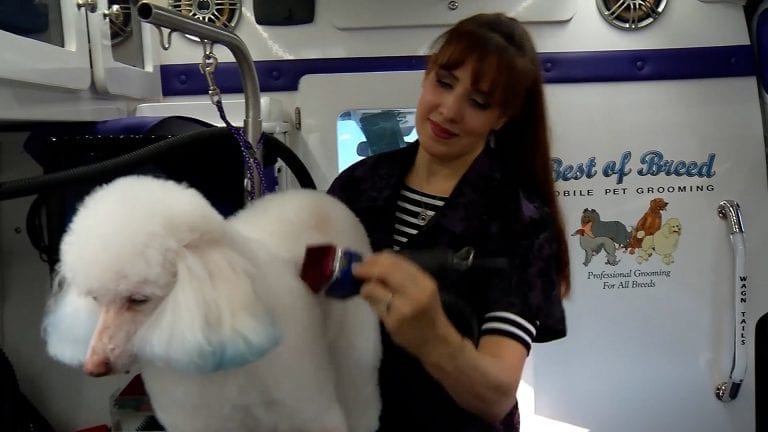 How To Become A Pet Groomer: A Guide
As more and more pet parents understand the impact that regular grooming can have on their pet's health, the demand for pet groomers, especially mobile grooming, continues to climb. In fact, dog grooming employment is expected to increase by 19% between now and 2026. 
Plus, according to a recent survey of pet parents, there are approximately 89.7 millions dogs and 94.2 million cats in the U.S. 
For a pet groomer, that's a lot of potential clients! 
If you're interested in becoming a professional in this field, we've broken down how to become a pet groomer in three easy-to-follow steps: 
Gain necessary training and hands-on experience

Understand the basics of the job 

Discover your ideal work environment
Once you're finished with this article, you might find that this burgeoning industry is paw-sitively purr-fect for you. 
Gain Necessary Training and Hands-On Experience
There's no one path to becoming a pet groomer. By understanding the various education and training options available, you can choose the one that's best suited to your schedule and goals. 
Traditional Pet Grooming School

– Pet grooming schools offer in-person courses that can last anywhere from two weeks to four months.

These programs provide the most comprehensive education, as well as hands-on experience. Often, this type of formal education can open the door to more opportunities within the pet grooming industry. 
However, in-school courses require a significant time commitment. They're also one of the more expensive options for pet grooming education.  
Online School

– Online pet grooming courses offer a more convenient option for training, especially if you currently work another job. Online courses also tend to be more affordable than in-person courses. However, this is due in part to the fact that online courses can't offer hands-on training the way in-person courses can.

Mentorships & Apprenticeships

– A mentorship or apprenticeship with an experienced pet groomer is perfect for those who learn best by

doing

. This type of training will typically last between six to ten weeks and can potentially lead to a full-time job working with your mentor.
While mentorships are an exciting way to jump into the world of pet grooming, they may not provide as well-rounded of a learning experience as a comprehensive school course. This is because you rely entirely on your mentor for all pet grooming knowledge. That means if there's something they don't know, you likely won't know it either. 
Self-Education

– Formal training isn't required to be a professional pet groomer. With books, seminars, and online webinars, you can always choose the route of self-education. However, this method may require more time. It also lacks an important aspect of training—hands-on experience.
Traditional and online pet grooming courses can also offer pet grooming certificates upon completion. While a certificate isn't necessarily required to be a pet groomer, it acknowledges the extensive training you've received as an experienced groomer. This may compel pet parents to hire you over a pet groomer without a certificate.
Understand the Basics of the Job 
Pet groomers are responsible for a wide range of services. Daily duties can include: 
Washing and drying 

Clipping or shaving fur

Styling 

Brushing fur 

Cleaning ears and eyes

Trimming nails 

Brushing teeth 

Checking for signs of skin conditions, fleas, or ticks 

Expressing anal glands 

Educating pet parents on hygienic maintenance between visits 
Provide these services to several clients a day, and you'll find that grooming also requires a considerable amount of physical and mental stamina. 
But proper grooming goes beyond basic washing and fluffing—pet groomers must also be equipped with specialized knowledge to ensure the health and hygiene of their fuzzy clients.
Recognizing Different Breeds and Their Different Needs
Another important aspect of pet grooming is understanding the differences in various breeds. Dogs like Italian Greyhounds who have extremely short, smooth coats require different care than breeds such as Poodles or Bichon Frises who flaunt curly, high-maintenance coats.
Identifying Pet Health Issues 
While achieving a particular look is certainly part of the pet grooming process, another significant aspect is ensuring four-legged clients are healthy. As a professional groomer, you need to be able to recognize the signs of skin infection, fleas, ticks, and other illnesses or injuries to ensure proper animal care. 
Learning Pet CPR and First Aid
When owners leave their loved ones in your hands, they expect the utmost care—which includes being certified in pet CPR and first aid. By knowing exactly how to react in emergency situations, you can confidently provide a safe and comfortable grooming experience for both pets and pet parents. 
Discover Your Ideal Work Environment 
Once you've had proper training, you can unleash your skills in the real world as a professional pet groomer. Pet groomers often find work at:
Pet grooming salons

Veterinary clinics or kennels

Pet stores 

Mobile grooming salons
Where you choose to showcase your talents is entirely up to you. However, this decision can impact the amount of money you can expect to earn. 
On average, pet groomers who work as employees for salons, clinics, or pet stores make an annual salary of $30,053. But if you own a mobile grooming salon, you can earn triple that amount or more. Plus, you can set your own mobile dog grooming prices, create your own schedule, and attract more clients with the convenience of bringing the salon directly to their homes. For more information on how to start a mobile pet grooming business and pet grooming benefits, check out our blog!
Make Your Pet Grooming Dreams Come True 
If you're ready for your office desk to turn into a grooming table and your clients to become a little furrier and friendlier, it's time to take the first step toward becoming a professional pet groomer. To increase your earnings potential and make the most out of this exciting career, consider purchasing or leasing a mobile grooming vehicle from Wag'n Tails.
As the leader in mobile pet grooming equipment solutions, Wag'n Tails offers best of breed specialty vehicles. Plus, with flexible financing options, an in-house branding team to help build your brand, and a comprehensive mobile pet grooming business guide to help ensure your success, purchasing or leasing a vehicle from Wag'n Tails is the best way to achieve your professional and personal goals. 
Sources: 
Veterinary Schools. How to Become a Dog/Pet Groomer. https://www.veterinaryschoolsu.com/grooming/ 
PetGroomer.com. Schools. https://petgroomer.com/schools/ 
The Academy of Pet Careers. How To Become A Dog Groomer. https://www.theacademyofpetcareers.com/blog/how-to-become-a-dog-groomer/ 
Indeed. How to Become a Dog Groomer in 3 Easy Steps. https://www.indeed.com/career-advice/career-development/how-to-become-a-dog-groomer
Petway Petcare. Coat Types. https://petwaypetcare.com.au/info/coat-types/