Why Do Pet Parents Use Mobile Grooming?
Uncategorized
|
7 min read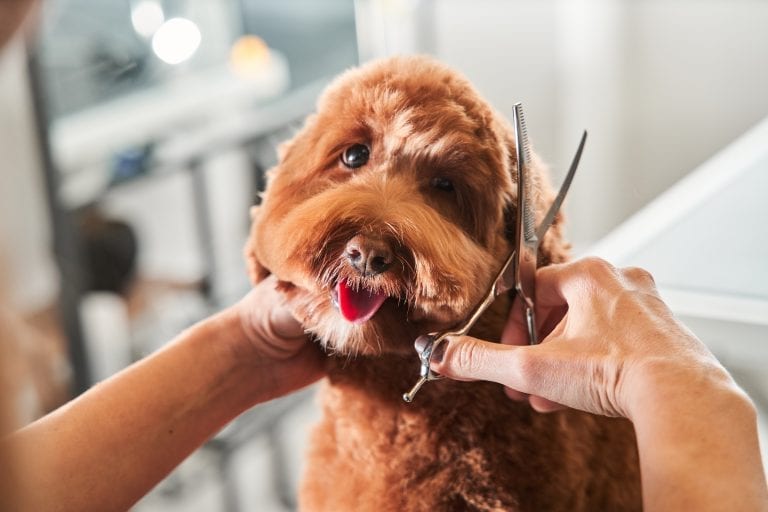 At the end of a long day, there's no greater reward than coming home for some cuddles from your four-legged friend… unless they aren't properly groomed. Stinky breath, greasy fur, or extra sharp nails can make it difficult to enjoy that precious cuddle time. 
But with hectic work schedules and new concerns surrounding COVID-19, taking a trip to the local pet groomer is easier said than done. 
That's where mobile pet grooming can help. 
Today, more and more pet owners are choosing the convenience of mobile grooming services to keep their furry friends looking and feeling their best. Keep reading to learn more about why mobile grooming may be right for your pets and the many benefits you can expect. 
The Importance of Pet Grooming
In the past, pet grooming was often seen as a luxury reserved for those who wanted to treat their fur babies to a little TLC or show their pups off in competitions. But now, pet owners are discovering the role that regular grooming plays in maintaining their pet's overall health and well-being. 
From snout to tail, grooming affects every inch of your four-legged companion. Here's how.
A
Coat
for All Seasons
Regular bathing not only keeps your pup smelling fresh, but also prevents pollen, dust, and other allergens from making a home for themselves within your pet's fur. 
Like humans, dogs can suffer from allergies. But instead of runny noses or watery eyes, dog allergies manifest themselves on the skin. This means pollen and dust trapped in your dog's fur can cause them to excessively scratch, lick, and bite at their skin for relief. Not only does this cause your dog discomfort, but it also increases their risk of developing a skin infection. 
Have You Heard About Dirty
Ears
?
Fur isn't the only part of your dog attracting unwanted guests. Your dog's dark, moist ear canals also make an inviting home for mites, fungus, and bacteria. 
That's why ear cleaning is an essential part of the dog grooming process. By eliminating ear pests, groomers also eliminate your dog's risk of developing painful ear infections. 
Brush Up on Doggy
Dental Care
Ensuring your furry friend has fresh breath does more than making their kisses sweeter. With regular teeth brushing, you can help prevent tartar buildup, gingivitis, periodontal disease, and even tooth decay. 
Nailin'
These Grooming Facts
Keeping your dog's nails trimmed can save your furniture (and skin) from accidental scratches. But more importantly, regular nail trimming prevents the nails from becoming too long. 
Overgrown nails can make it difficult for your pet to walk. In some cases, they can even pierce the pads of the paws and cause infection. 
Keep Your Cat Looking and
Feline
Their Best 
Pet grooming isn't just going to the dogs. Cats can also benefit from professional grooming services. In fact, regular grooming is necessary for cats to prevent excess shedding, hairballs, and matted fur. 
Long-haired cats are at an increased risk of developing matts due to the length of their fur. These matts aren't just unsightly—they can make it difficult for your cat to perform everyday tasks, such as walking, scratching, and bathing themselves. 
Leave It To The Pros
Although pet grooming provides important preventative healthcare for our furry friends, many owners aren't sure how to properly clip their pet's nails, brush their pet's teeth, or bath their pet in a way that doesn't cause lasting trauma (for both the pet and the owner). 
That's where professional pet groomers come in. 
Dog and cat groomers are specially trained in their field. You can trust that they'll provide a thorough and safe grooming experience for your canine or kitty companion. 
With both schooling and hands-on education, pet groomers learn how to: 
Bathe, clip, and style pets 

Detangle fur and remove matts 

Clean ears 

Trim nails

Brush teeth 

Express anal sacs 

Administer flea medication

Check for fleas, ticks, and signs of skin infection
Plus, professional groomers understand how to calm a dog for grooming if they are scared, anxious, or defensive. This is especially beneficial for cat owners, as our feline friends are typically more temperamental than their canine counterparts. 
Why Go Mobile?
With the wide range of health benefits regular grooming provides, it's no wonder the pet grooming industry is projected to grow by more than 23% in this year alone. And mobile pet grooming is going along for the ride. 
Why are more owners choosing mobile grooming for their pet's preventative healthcare needs? 
Let's dig into it. 
Flexible Hours
Being a pet parent is probably not your full-time job (as much as you wish it were). That means finding time to pack up your pup and drive to a salon may be difficult. This is especially true if you work in a field that demands long hours or an odd schedule, such as healthcare or film production. 
Because mobile pet groomers set their hours, they can better accommodate your unique schedule. There's no need to take time off work or wake up an hour earlier to get your pet to the grooming salon. Instead, a mobile pet groomer brings the salon to you.
Convenience
For some pet parents, driving to a salon isn't physically possible. If you're elderly, disabled, or homebound for any reason, a mobile pet groomer is a convenient option for getting your pet the preventative services they need. 
Since mobile pet groomers bring the salon directly to your door, you don't have to worry about moving even so much as a finger. 
Less Hassle
Is your house a home to a pack of pups? A drove of dogs? Maybe a collection of cats? 
If you have multiple pets, you understand the hassle that comes with making sure everyone is regularly groomed. With a traditional brick and mortar salon, you either need to make multiple trips every month or attempt to corral all your fur babies into the car at the same time. 
With mobile grooming, you have a third option—relax at home and wait for the groomer to come to you. That way, all your pets can be groomed on the same day, and no one has to argue over who rides shotgun. 
Less Stress
Motion sickness is a common problem for dogs, especially young puppies whose inner ears are still developing. 
Dogs who experience motion sickness may exhibit: 
Excessive drooling

Whining

Lip smacking

Diarrhea

Vomiting 
This can make traveling in the car a stressful experience for dogs and their owners. No one wants to watch their furry friend suffer in this way. 
Fortunately, with mobile grooming services, you don't have to. By coming directly to your home, mobile pet groomers eliminate the need to travel. This means you don't have to sacrifice your pup's health to take advantage of the preventative benefits regular grooming has to offer. 
Personalized Care 
In a busy grooming salon, groomers can easily become distracted by other pets, customers in need of assistance, or phone calls. Not only does this take away from your pup's pampering, but it can also create a more stressful environment for your furry friend.
With a mobile groomer, your pet is the only focus. A mobile pet groomer doesn't have to worry about other customers interrupting the grooming experience or causing a commotion. This allows the groomer to take their time with your puppy, ensuring a more comfortable and enjoyable experience. 
Plus, one-on-one grooming promotes a stronger relationship between groomer and groomee. Your dog or cat will quickly learn to trust your groomer and even look forward to their monthly visits. 
A Socially-Distant Option
COVID-19 has forced many individuals and businesses to make changes to their routines and practices. This includes pet groomers. Many brick and mortar grooming salons have restricted the number of employees allowed to work simultaneously. This means salons are unable to serve as many customers. 
Plus, to minimize their risk of exposure, many pet parents want to avoid unnecessary trips and social interactions when they can. 
With a mobile groomer, you can ensure your pet's health and well-being while still observing social distancing guidelines and keeping yourself safe. 
How To Find A Mobile Pet Groomer in Your Area
If the many mobile pet grooming benefits speak to you, schedule an appointment with a mobile groomer in your area. 
To find a mobile grooming professional:
Reach out to your vet

– Veterinarians often form partnerships with certified mobile groomers so they can offer referrals to their patients. 

Search social media

– With a bit of internet investigation, you can read what other customers have to say about the mobile groomers in your area and find out more about mobile dog grooming prices.

Talk to other dog owners in your neighborhood

– Sometimes, the best referrals come through word of mouth. Take a trip to the dog park to ask other parents if they can recommend a mobile groomer.  
With the ever-increasing popularity of mobile pet grooming services, finding a professional that's right for you should be a walk in the park. 
Pet Grooming That Fits Your Schedule
Keeping your pet well-groomed isn't just about giving them minty breath and freshly fluffed fur you can smush your face into (although that's certainly a benefit). More importantly, providing your pup with regular grooming helps prevent painful and costly health problems down the road.
And with mobile grooming services, you can experience this preventative care without leaving the comfort of your own home. 
That's why Wag'n Tails offers a line of elite vehicles and flexible financing options for those looking to start their own mobile pet grooming business. At Wag'n Tails, healthy pets and satisfied pet parents are our top priority—that begins with happy pet groomers. 
Sources: 
FETCH by WebMD. Discharge From a Dog's Ear: Causes and Treatments. https://pets.webmd.com/dogs/dog-discharge-ear#1 
FETCH by WebMD. Tips for Better Dental Health in Dogs. https://pets.webmd.com/dogs/guide/tips-better-dental-health-dogs#1-6 
PetGroomer.com. Cat Grooming Careers. https://petgroomer.com/cat-grooming-careers/ 
IBIS World. Pet Grooming & Boarding in the US. https://www.ibisworld.com/industry-statistics/market-size/pet-grooming-boarding-united-states/#:~:text=The%20market%20size%20of%20the%20Pet%20Grooming%20%26%20Boarding%20industry%20is,average%20between%202016%20and%202021. 
VCA. Motion Sickness in Dogs. https://vcahospitals.com/know-your-pet/motion-sickness-in-dogs